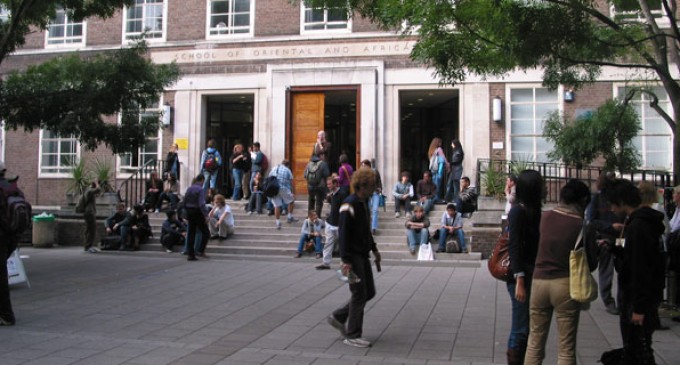 California Polytechnic State University-Pomona recently starting requiring their students to get a special permit to exercise their free speech rights as any distributed material must be approved before they would be able to hand it out within the schools 'free speech zone'.
This is steadily becoming the norm in colleges and is outright conditioning of our nation's youth to the idea that their Constitutional rights can be stripped away.
"Cal Poly Pomona's campus policies impose a web of restrictions before students can distribute literature on campus: They must check in with the Office of Student Life, allow the school to copy their IDs, and wear badges signed by an administrator," reported the Foundation for Individual Rights in Education, who is helping Tomas sue the school. "Even then, would-be speakers are relegated to the so-called 'free speech zone.' Badges can only be issued from 8 a.m. to 5 p.m. on weekdays, although the Office of Student Life pledges to 'work with' any student who wishes to engage in expressive activity on evenings or weekends."

"Additionally, students must register in advance for outdoor events, and the Office of Student Life must approve all flyers and posters."
As draconian as this sounds, it's becoming quite the norm in America.

Last fall, officials at Dixie State University in St. George, Utah, refused to allow libertarian students to hand out flyers poking fun at U.S. presidents because the campus "forbids" mocking.

The students responded with a lawsuit.

"Campus officials denied the flyers on the grounds that they violated school policy, which does not allow students to disparage others, according to the lawsuit," reported Andrew Desiderio of the College Fix. "But the students, members of Young Americans for Liberty, allege their free speech rights have been infringed, and a leader of the group said in an interview administrators are 'silencing and marginalizing' them."

Similarly, earlier this month a judge in Xenia, Ohio declared "there will be no mentioning of the Constitution" during a pre-trial hearing for a journalist who was cited for protesting against an anti-panhandling ordinance.

The judge said this while laughing at the journalist, Virgil Vaduva, who was arguing that his protest on a public sidewalk constituted free speech.

The prosecutor in the case also claimed that mentioning the Constitution during the trial would "confuse the jury," despite the fact it's the supreme law of the land.