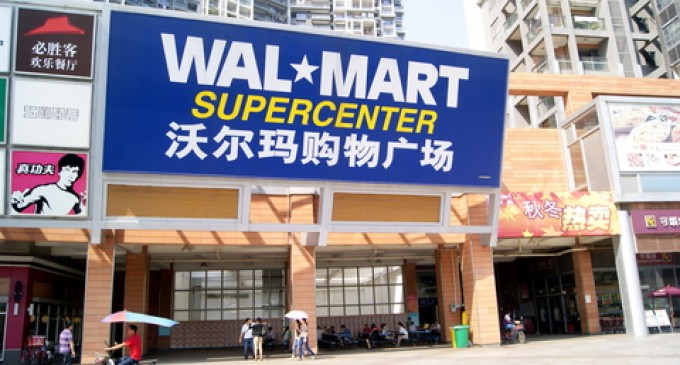 Of all the corporations in the would that you would think could pay their own bills it would be Wal-Mart, which is the largest food seller in the world – raking in over $36 million dollars every single hour.
Yet, this gargantuan money maker barely pays their employees enough for them to live comfortable – which makes the have to go on food stamps and all sorts of welfare programs.
Hundreds of the largest corporations in the world do the same thing, which is basically charging you more for their products through your  taxes, only you don't get any bag of goods handed to you at the end of the day.
Today, Wal-Mart employs approximately 1.2 million people in the United States, and it makes a yearly profit of about 17 billion dollars.

So why does it need 2.6 billion dollars of help from the U.S. government?

Wal-Mart is a colossal money-making behemoth.  Just consider the following numbers…

The size of Wal-Mart is sometimes difficult to visualize. To put it into some context, consider the following: 100 million U.S. shoppers patronize Wal-Mart stores every week. Wal-Mart has twice the number employees of the U.S. Postal Service, a larger global computer network than the Pentagon, and the world's largest fleet of trucks.Americans spend about $36 million dollars per hour at the stores. Wal-Mart now sells more food than any other company in the world, capturing one of every four dollars spent on food in the U.S. The average American family of four spends over $4,000 a year there. Each week, it has 200 million customers at more than 10,400 stores in 27 countries. If the company were an independent country, it would be the 25th largest economy in the world.

Wal-Mart does well enough to be able to pay their workers a livable wage.

And yet they refuse to do it.

Shame on them.

Meanwhile, the six heirs of Wal-Mart founder Sam Walton have as much wealth as the poorest one-third of all Americans combined.

This reminds me of something that I read in the fifth chapter of James the other day…

Come now, you rich men, weep and howl for your miseries that shall come upon you. Your riches are corrupted and your garments are moth-eaten.  Your gold and silver are corroded, and their corrosion will be a witness against you and will eat your flesh like fire. You have stored up treasures for the last days.  Indeed the wages that you kept back by fraud from the laborers who harvested your fields are crying, and the cries of those who harvested have entered into the ears of the Lord of Hosts.  You have lived in pleasure on the earth and have been wayward. You have nourished your hearts as in a day of slaughter.

But we continue to reward this behavior, don't we?

100 million of us continue to visit Wal-Mart every single week, and we continue to fill up our shopping carts with cheap products that are made outside this country.

We refuse to support American workers and American businesses, and this is a recipe for utter disaster.  For much more on this, please see my previous article entitled "National Economic Suicide: The U.S. Trade Deficit With China Just Hit A New Record High".

The truth is that we cannot consume our way to prosperity.  When we consume far more wealth than we produce, we pile up debt and we become poorer as a nation.

And as a country we have become exceedingly cold-hearted toward our workers.  If you truly love free markets and capitalism, you should be encouraging big companies to pay their workers properly.  Instead, we are moving closer and closer to the slave labor model employed by China and other communist nations with each passing day.  Sadly, I am becoming increasingly convinced that many prominent "pro-business" voices in America today are actually closet communists.  They seem to want everything to be made in China and for American workers to be paid just like Chinese workers.

At this point, the U.S. middle class is well on the way to being destroyed.  As I have written about previously, 40 percent of all American workers now make less than what a minimum wage worker made back in 1968 after you account for inflation.

How is the middle class supposed to survive in such an environment?

And for any "pro-business" people that want to defend Wal-Mart, do you actually like paying suffocating taxes to support all of the people that are being forced on to the safety net?

What is our society going to look like as millions more Americans become dependent on the federal government each year?  Government dependence is already at an all-time record high.  How much worse do things have to get before we admit that we have a real problem?

Unfortunately, it looks like our problems are only going to accelerate in 2015.  Thanks to the stunning decline in the price of oil, we are starting to lose good paying jobs in the energy industry…

One company caught in the industry downturn is Hercules Offshore Inc. The Houston-based firm is laying off 324 employees, roughly 15% of its workforce, because oil companies aren't renewing contracts for its offshore drilling rigs in the Gulf of Mexico while crude prices are depressed.

"It's been breathtaking," said Jim Noe, executive vice president of Hercules, which was founded in 2004. "We've never seen this glut of supply and dislocation in oil markets. So we're not surprised to see a significant decline in demand for our services."