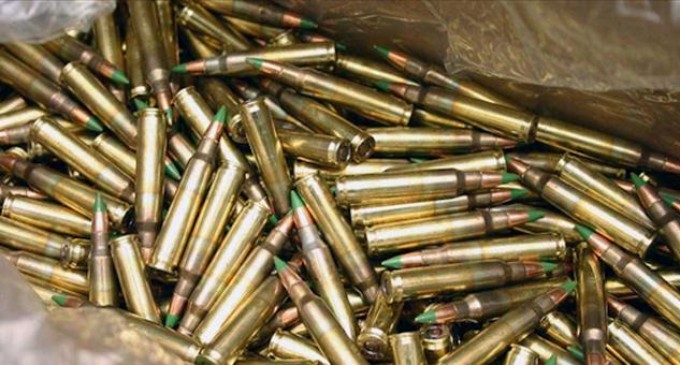 Due to overwhelming pressure from the NRA and a Republican-held Congress the Obama administration has suddenly reversed course on banning 5.56 M855 "green tip" ammo, inexpensive ammunition widely used by AR-15 owners.
With this win for Constitutionalists, unfortunately rather rare these days, we can see that even with the full backing of an usurped federal government, pressure from the NRA and Republicans in Congress who haven´t 'gone RINO' can still be seen to have influence within our ever-steering-left federal govenment.
"They've gone away for now. We know they're coming back and we will be ready," Wayne LaPierre, executive vice president of the NRA, told Secrets.

In a tweet, ATF said, "You spoke, we listened. @ATFHQ plans more study on the proposed AP Ammo exemption framework." It added in a statement:

"Although ATF endeavored to create a proposal that reflected a good faith interpretation of the law and balanced the interests of law enforcement, industry, and sportsmen, the vast majority of the comments received to date are critical of the framework, and include issues that deserve further study. Accordingly, ATF will not at this time seek to issue a final framework. After the close of the comment period, ATF will process the comments received, further evaluate the issues raised therein, and provide additional open and transparent process (for example, through additional proposals and opportunities for comment) before proceeding with any framework."

Lawmakers and the NRA, who warned that the proposal could lead to sweeping ammo restrictions, took credit. It was the NRA that teamed with the chairman of the House and Senate Judiciary committees to collect majorities of members to oppose the bullet ban.

Just Tuesday morning, Secrets reported that 52 senators had joined 238 House members, mostly Republicans, in opposing the ban on the ammunition. Many members believed the proposal was a backdoor effort to impose gun control and limit use of the military-styled AR-15, one of the nation's most popular rifles but an "assault weapon" liberals want banned.

ATF had proposed banning the ammo in a bid to protect police. They argued that the AR-15 platform is becoming a popular pistol and that police could face attacks as they do with more traditional handguns. Thus, a ban on the ammo would be a lifesaver.

In its "framework" proposal, ATF wrote, "The AR platform is the semi-automatic version of the M16 machine gun originally designed for and used by the military. The AR-based handguns and rifles utilize the same magazines and share identical receivers. These AR-type handguns were not commercially available when the armor piercing ammunition exemption was granted in 1986. To ensure consistency, upon final implementation of the sporting purpose framework outlined above, ATF must withdraw the exemptions for 5.56 mm 'green tip' ammunition, including both the SS109 and M855 cartridges."

However, law enforcement sources said that the agency didn't realize that the proposal would face such widespread opposition.

Police groups, for example, said the AR-15 pistol, which can weigh five pounds, measure 23-inches long and cost $1,000 or more, isn't been used against police. Typically cheaper and easy-to-conceal handguns are used in crimes.

What's more, that round of ammo isn't used against police, said James Pasco, executive director of the Washington office of the Fraternal Order of Police, the world's largest organization of sworn law enforcement officers, with more than 325,000 members. "It's not something that's necessary at this time," he told Secrets Tuesday.

And groups like the NRA warned that theBureau of Alcohol, Tobacco, Firearms and Explosivescould take the 5.56 ban and expanded it to any rifle cartridge because virtually all can penetrate soft body armor. Since 1986, most rifle cartridges have been exempted from a ban on armor-piercing ammo because they are used for hunting and target practice, not against police.

"Today's announcement proves what we have said all along — this was 100 percent political," said LaPierre. "President Obama failed to pass gun control through Congress, so he tried impose his political agenda through executive fiat. But every gun owner in America needs to understand Barack Obama's hatred of the Second Amendment has not changed," he added.

Chris Cox, executive director of the NRA's lobbying shop, said, "This proposal was never about law enforcement safety – it was about the Obama Administration's desire to pander to billionaire Michael Bloomberg and his gun control groups. Since they haven't been able to ban America's most popular rifle, they are trying to ban the ammunition instead."

Sen. Chuck Grassley, the Senate Judiciary Committee chairman who authored the Senate letter to ATF, warned that the bullet ban could lead to wider restrictions and a throttling of the Second Amendment. "Second Amendment rights require not only access to firearms but to bullets. If law-abiding gun owners cannot obtain rifle ammunition, or face substantial difficulty in finding ammunition available and at reasonable prices because government entities are banning such ammunition, then the Second Amendment is at risk," said Grassley's letter.