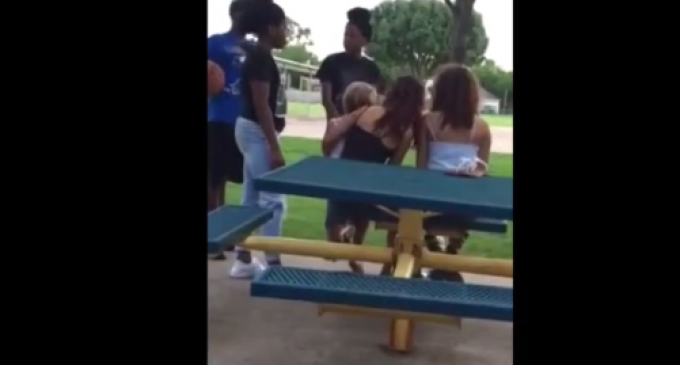 A group of onlookers didn't do anything to thwart the attack and some even cheered the attacker on. One teen is even seen dancing during the beating.
One Facebook user claims to know more about those involved: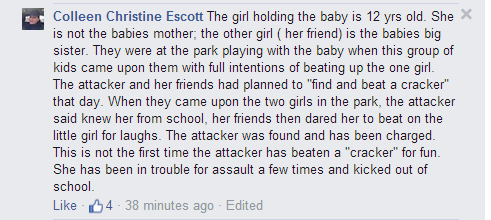 A reward of $1,250 offered is being offered by The Conservative Treehouse for the apprehension of the attacker, who is still at large.
There seems to be confusion about this particular incident because of another black on white beating that occurred in Indianapolis earlier this month as well. That attacker, seen in the video below, has been arrested on an unrelated charge.
A girl who was reportedly recorded in a viral video that showed the brutal beating of another girl and a young boy near a playground in Indianapolis has been arrested for an unrelated incident, according to the Indianapolis Metropolitan Police Department.

The 14-year-old girl was arrested for disorderly conduct in downtown Indianapolis Saturday night, police said, but she was also identified as a suspect in the earlier beating of another 14-year-old girl and a 5-year-old boy in an attack that was caught on camera.

Lieutenant Richard Riddle with the Indianapolis Metropolitan Police Department's media relations office said authorities believe the videotaped attack took place over the weekend in Brookside Park at 3500 Brookside Parkway S. Dr.
UPDATE: 6/26/15

A video captured the June 19th brutal assault on a teenage girl and a toddler who served as collateral damage. Since the encounter, police claim that the Rowlett attack, although violent and premeditated, was not racially charged. The suspect was taken into custody Sunday night.

Breitbart Texas spoke with Cruz Hernandez, a Rowlett Police Department detective and public information officer, about the attack. Wanting to correct the story that the crime was a racially charged one, Hernandez said that much of the information on the Internet was not accurate.

"We are talking about criminal behavior here. This is an attack by one person on another person that is not racially motivated," said Hernandez.

Shown in the video above, the suspect and her friend confronted the victim at Herfurth Elementary School, a Garland ISD campus. A toddler and the victim's sister both sat with the victim. The suspect (girl standing on the left) decided to confront the victim (girl seated on left side of bench) and challenge her to a fight. The victim was not interested in fighting, and once the suspect realized the victim wouldn't accept the challenge, she attacked her in a brutal manner. The suspect dragged the victim onto the grass, where she kicked her one time and punched with a closed fist several times.

Rowlett Police identified the girl as a 14-year-old juvenile. Her name will not be released according to a Fox4News report. The girl was processed into the Dallas County Henry Wade Juvenile Detention Center located in Dallas, Texas. She was taken into custody with the help of her family.

Hernandez was able to confirm the following regarding the assault:

The 14-year-old victim is biracial; her mother is white and her father is black.

The suspect in the video is also 14-years-old. She will be charged with two counts: Class A assault causing bodily injury, and the more severe felony charge to the third degree of injuring a child.

The attacker and the victim attended the same middle school, and a minor altercation happened between them earlier this year.

The toddler in the video is the victim's 3-year-old niece. She sustained bodily injuries—scrapes, bruises, and physical pain.

The police department labels the attack premeditated. Pointing out that the video recording began prior to the physical attack, Hernandez said, "That would indicate to us that the photographer had enough knowledge to know there would be an event to record."