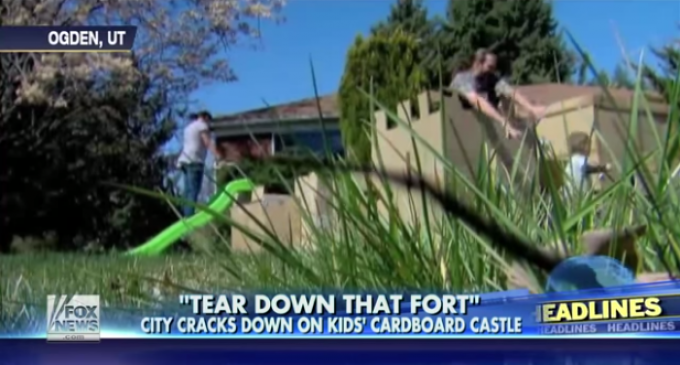 A family in Ogden, Utah has been threatened fines if they don't remove a cardboard fort their father made for his kids and their friends because the city has labeled it as either 'junk' or 'trash' and therefore stands in violation of city code.
The father, 36-year-old Jeremy Trentelman, states he will keep the fort up until the city's April 17th deadline.
Neighbors are calling for the building of cardboard forts on front lawns throughout the city in protest.
36-year-old Jeremy Trentelman used boxes from his job as a floral designer to build an impressive fort with trapdoors, turrets and secret tunnels, enlisting the help of his wife as well as two-year-old daughter Story and three-year-old son Max.

The fort featured a sign that read, "everyone can come in," prompting other neighborhood kids to join in with the fun.

But the mood turned sour when Trentelman received a letter just one day later from the government demanding he take down the structure, described as "waste materials or junk," or be hit with a $125 fine.

"ARE YOU FREAKIN KIDDIN ME!!!?! We build a completely awesome box castle in our front yard for our our kids to play in and we get a notice from code enforcement?!?," Trentelman wrote on his Facebook page.

The letter was sent despite the fact that most of Trentelman's neighbors had no problem with the castle, with Curtis Price, who lives across the street, telling Utah News: "It's great what they're doing for their kids. I think they should add on to it."

However, as Trentelman explains in an op-ed for the Standard Examiner, the code enforcement was triggered by a single complaint.

Trentelman has until April 17 to scrap the fort and although he has agreed to do so, he will keep it up as long as possible.

In support of Trentelman, his neighbors have started a Facebook page, "Calling on all the citizens of Ogden to stand in solidarity with Jeremy Trentelman by building cardboard forts in all the front yards throughout the entire city of Ogden."

As Matt Agorist explains, if Trentelman had refused to take down the cardboard fort and refused to pay the fine, armed men would have eventually been sent to deal with him and his family.

"Like all threats from government, this citation from the city would ultimately be enforced through the initiation of force. Had the family refused to tear down the box fort, on their own property, they would have been met with a letter of extortion, known as a citation. Had they refused to be extorted, armed men from the state would have come to collect this money. If they refused yet again, and defended themselves from these armed men, they would be killed."