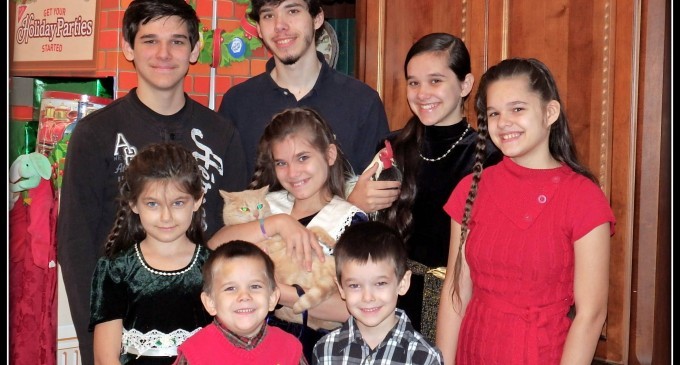 Garland County, ARKANSAS: On Monday afternoon, Hal Stanley and his family were served with a search warrant by State and Garland County agents. While the officers conducted a search for a mineral supplement in their home, Hal and his wife, Michelle, were kept outside, away from their children.
The family leads a peaceful lifestyle, based on self-sufficiency. They consider themselves "preppers" and have home schooled all nine of their children, two of whom have now moved on to college. They say they've never had any trouble with authorities before, not even a speeding ticket.
The 7 children were subjected to medical examinations in an ambulance at the scene but were given a clean bill of health.
ArkansasMatters reports:
Hal explained, "They were saying the children looked healthy and everything looked good."

According to Michelle one of the agents spoke to her about the living conditions of the house.

"Oh this is nice and your kids are great," she shared. "That's what was giving us hope that this thing's just going to be over in a few minutes."

At about 9:30 that night however, things changed.

"Suddenly the door opened … and there were six or eight of them, came in the door, marched in there," Hal showed. "Fully armed Sheriff's and people stood there and said we're taking the children for 72 hours."

DHS won't comment on, confirm or deny any particular investigation but did confirm that if children are taken, the agency has 72 hours to have an emergency order signed by a judge. The courts then have an additional five days to hold a probable cause hearing where the fate of the children will be decided.
The apparent issue that has law enforcement riled up enough to remove the children is Hal Stanley's use of a mineral supplement not approved by the FDA, known as MMS. Although the FDA indicates the possibility of health risks associated with the product, the Stanley's insist that only Hal has taken the supplement. Otherwise, the MMS was used just for water treatment in the garden.
Health Impact News reports that Hal's supplement has been used by the Red Cross in Africa to treat malaria and has saved thousands of people. The product is made from sodium chlorite, available legally online from Amazon and Ebay.
Will this aggressive action by authorities, displacing the 7 children and breaking apart a healthy family have any actual benefits for the kids or is this partly a case of bad judgement by an overreaching bureaucracy in response to corporate pharmaceutical interests?
Source: ArkansasMatters.com