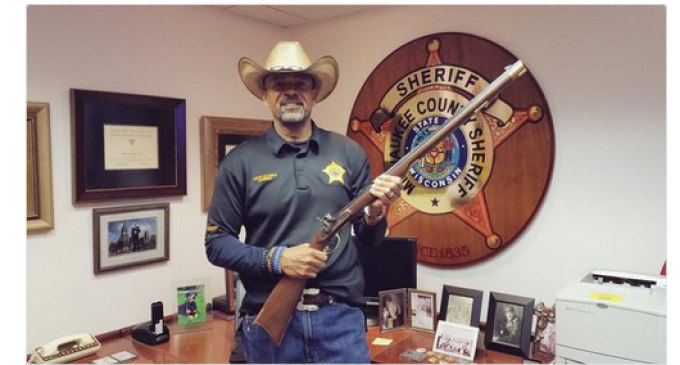 Milwaukee's Democratic Sheriff David A. Clarke recently tweeted warnings that Obama is using recent police shootings in order to further create racial tensions so the DOJ could expand federal control over local law enforcement. Clarke states Obama is creating a 'war on police'.
"Obama's reaction will be to sic [the DOJ] on Hattiesburg P.D. to look for patterns of racism," he remarked about the Hattiesburg shootings.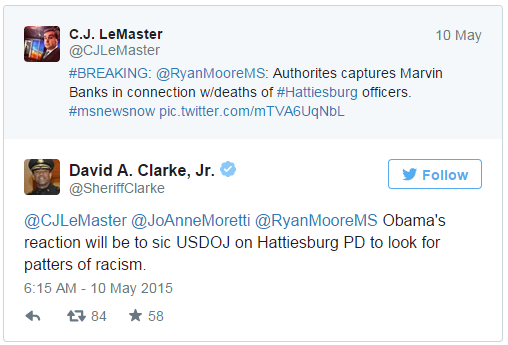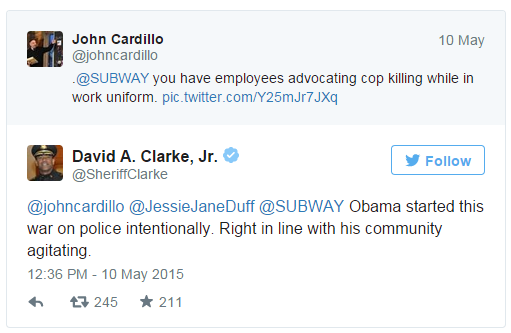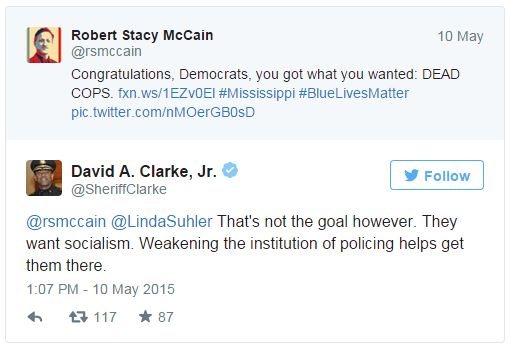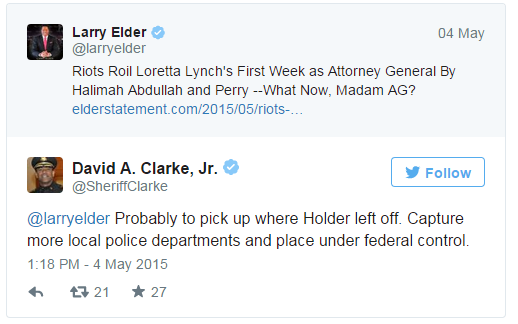 He's right: back in March the Obama administration published the Task Force on 21st Century Policing, a plan which advocates the federalization of police agencies across the country by forcing them to adhere to stricter requirements when they receive federal funding.

"The U.S. Department of Justice, through the Office of Community Oriented Policing Services [COPS] and Office of Justice Programs, should provide technical assistance and incentive funding to jurisdictions with small police agencies that take steps towards shared services, regional training, and consolidation," one of the plan's numerous recommendations stated.

President Obama said the plan's recommendations "are directed at the 18,000 law enforcement jurisdictions that are out there."

"I'm going to be asking Eric Holder and the Justice Department and his successor [current A.G. Lynch] to go through all these recommendations so that we can start implementing them," he said. "I know that one area that's going to be of great interest is whether we can expand the COPS program that in the past has been very effective, continues to be effective, but is largely underfunded – to see if we can get more incentives for local communities to apply some of the best practices and lessons that are embodied in this report."

"But a lot of our work is going to involve local police chiefs, local elected officials, states recognizing that the moment is now for us to make these changes."

Baltimore Mayor Stephanie Rawlings-Blake, who gave rioters "space to destroy" property during the Baltimore riots and even told police to stand down, was one of only three mayors who provided broad input for the Task Force on 21st Century Policing.

"The federal government can be a strong partner in our efforts in build better relationships between the police and community," she said in written testimony before the task force.

By allowing the Baltimore riots to spiral out of control, the mayor and the Justice Dept. were able to use the unrest to justify the federal expansion into local law enforcement.