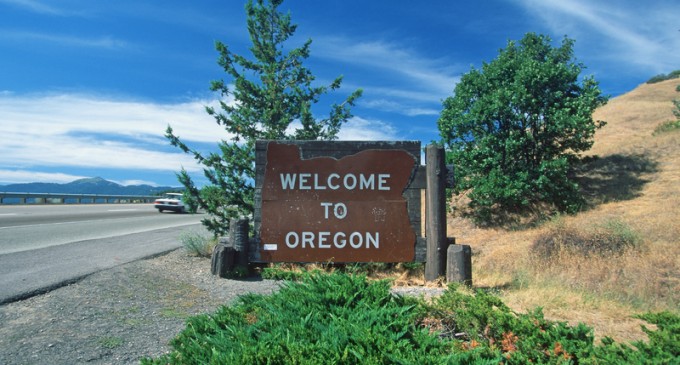 10 states are currently considering programs to tax drivers per mile driven, and with Senate Bill 810, Oregon will become the first state to officially realize such a program beginning July 1st.
Oregon will give drivers a choice: pay a gas tax at the pump or pay a flat 1.5 cents per mile driven.
Those who chose the flat fee per mile will still have to pay the gas tax when filling up, but at the end of each month, the amount paid at the pump will be compared the mileage data of the 1.5-cent-per-mile tax to figure the final balance.
Oregon's Department of Transportation has teamed up with road-tolling company Sanef ITS Technologies America Inc., the Long Island, N.Y., unit of a French company, and connected car company Intelligent Mechatronic Systems Inc., of Waterloo, Ontario. As many as 5,000 registered vehicle owners in Oregon will be able to join the program starting July 1.

The companies will provide the results to the state Department of Transportation, which oversees that tax revenue. Participants will then receive either a rebate, or an invoice for per-mile taxes due.

In 2013, Oregon passed a bill that authorized the Department of Transportation to set up a mileage collection system for volunteer motorists to fund state transportation. Over eight months in 2012 and 2013, Oregon conducted a successful 88-participant pilot of the program, prompting the official July 1 start.

More states?

The road usage program is North America's first execution of mileage-based charging as an alternate method of generating revenue to pay for highways, a joint statement from the state, Sanef ITS and Intelligent Mechatronic Systems said.

But this type of program could become more widespread.

More than 10 states, including Florida, are in the process of drafting legislation for similar programs or considering trial runs, Ben Miners, vice president of innovation at Intelligent Mechatronic Systems, told Automotive News.

With a growing number of electric and hybrid vehicles on the road, gas tax revenues being collected for road maintenance could fall, Sanef ITS president François Gauthey said in the statement.

"To improve and maintain America's roadway infrastructure, the transition from a gas tax to a distance-based road usage charge solution is a critical evolution," he said. "Creating a sustainable but fair system for collecting revenues is essential for future sustainability of critical transportation networks."