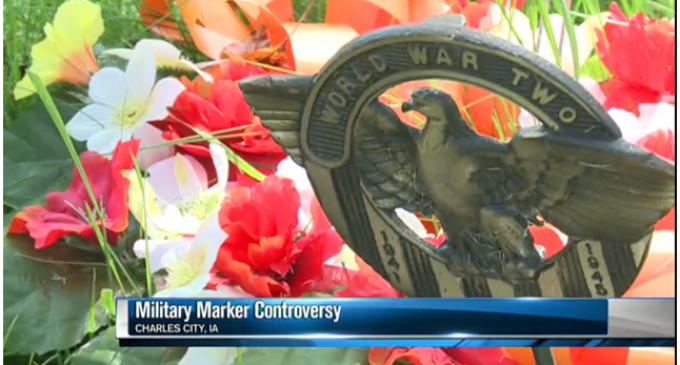 Many residents in a north Iowa community are shocked and upset over the removal of veteran military grave markers from the Charles City cemetery.
Regardless of the manner of death, the Department of Veterans Affairs furnishes military markers at no charge to applicants for the unmarked grave of any deceased, eligible veteran in any cemetery around the world.
Now one cemetery in Iowa is suddenly removing these markers from its grounds.
MOVE TO NEXT PAGE:
[nextpagelink]Iowa Cemetery Rips Military Markers From The Ground For IDIOTIC Reason[/nextpagelink]<!–nextpage–>
"This is where my grandparents are buried and normally we just leave it by the shepherds hook all summer long," state Sarah Shearman, whos grandfather served in the Navy during WWII. His military marker was a a reminder of his service to his country. "They said that they removed them because it's too hard to mow around them," says Shearman.
"I don't think a military marker that is small is too much to ask for all they gave to our country," she says.
Those in charge of the cemetery disagree. They don't see it as an issue of respect, rather, they are just following the rules. "We don't mean any disrespect on the markers for the veterans, it's just part of the policy," says Leland Boyd, chairman of the Board of Trustees.

The policy was put in place by the Iowa Insurance Division, the agency that regulates all Iowa cemeteries. Rule 807 states: "United States' flag markers may be placed on veteran's interment spaces to observe Memorial Day and Veteran's Day. If still present, Memorial Day decorations will be removed by cemetery personnel on the seventh day after Memorial Day and Veterans Day."

Boyd says this isn't anything new. "The rules haven't changed, we haven't gone out and changed it, it's just that they haven't been totally enforced," says Boyd. He says the policy is flexible, with many cemeteries deciding to allow the markers all season long.

Now, Shearman is attempting to gather support online, in hopes of Sunnyside Memory Gardens adopting the same change. "I posted on my Facebook about what happened, just letting my friends know in case they have family members out here that they need to go to the office and get their marker and there was such a reaction that I decided to start a petition," she says.

As of Wednesday, she has close to 250 signatures who support her cause. "They (Veterans) need more than seven days of recognition a year for all they've given us," says Shearman.

The Board of Trustees is responsible for the cemetery. Boyd says this issue will be discussed at an upcoming meeting where they will decide if changes need to be made.
<h6><span style="color: #888888;">Source: </span><a href="http://kimt.com/2015/06/10/military-marker-controversy/" target="_blank"><span style="color: #888888;">kimt.com</span></a></h6>
<iframe scrolling="no" frameborder="0″ allowfullscreen webkitallowfullscreen mozallowfullscreen src="http://up.anv.bz/latest/anvload.html?key=eyJtIjoiTElOIiwicCI6ImRlZmF1bHQiLCJ2IjoiNTIxMjU5IiwicGx1Z2lucyI6eyJkZnAiOnsiY2xpZW50U2lkZSI6eyJhZFRhZ1VybCI6Imh0dHA6Ly9wdWJhZHMuZy5kb3VibGVjbGljay5uZXQvZ2FtcGFkL2Fkcz9zej0xeDEwMDAmaXU9LzU2NzgvbGluLktJTVQvbmV3cy9pb3dhL21pbGl0YXJ5LW1hcmtlci1jb250cm92ZXJzeS9kZXRhaWwmY2l1X3N6cz0zMDB4MjUwJmdkZnBfcmVxPTEmZW52PXZwJm91dHB1dD14bWxfdmFzdDImYWRfcnVsZT0xIn19LCJhbmFseXRpY3MiOnsicGRiIjoiMzM0MjUyNjkifSwib21uaXR1cmUiOnsicHJvZmlsZSI6IkxJTiIsImFjY291bnQiOiJsaW50dmtpbXQsZHBzZ2xvYmFsIiwidHJhY2tpbmdTZXJ2ZXIiOiJsaW50di4xMjIuMm83Lm5ldCJ9fX0″ width ="640″ height="360″></iframe>