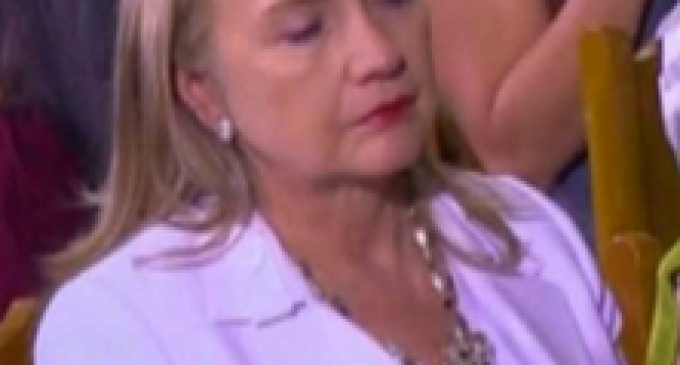 Documents released by the State Dept. last week reveal that when a presidential brief on Benghazi was held Hillary was far from ready to take that '3am call' when it rang for 4 Americans who perished in the Benghazi attack.
James Rosen of Fox News reported that Clinton was sleeping during the vital brief.
Twitter reaction to Rosen's revelation was swift and biting:

The idea of Clinton sleeping through a presidential briefing in the days immediately after a deadly terror attack casts a striking contrast to the ad she released during the 2008 primary against Barack Obama. The clip invoked a 3AM phone call in the midst of a national security crisis:

"It's 3:00am and your children are safe and asleep. There's a phone in the White House, and it's ringing. Something is happening in the world. Your vote will decide who answers that call.

Whether it's someone knows the world's leaders, knows the military, someone tested and ready to lead in a dangerous world. It's 3am and your children are safe and asleep.

Who do you want answering the phone?"

Here is the full political ad:

Twitter users didn't miss the connection:

It's hard to say how this information will affect Mrs. Clinton's chances to win the White House. It will likely depend on whether the news media press her on the issue.

It's worth noting that President Obama skipped his briefing all together on the day after the attacks so he could attend a fundraiser in Las Vegas:

President Obama was re-elected two months later.