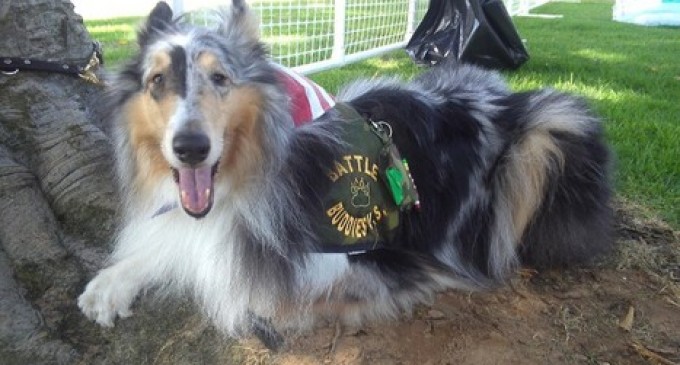 J. Orlemann is a Vietnam Veteran with a Bronze Star to his name who hasn't been able to leave his house after his 14 years of military service, that is until he and his wife got a collie by the name of Barak.
Now the dogs life is in jeopardy and The Orlemanns face a large vet bill of about $5000 while their dog is receiving transfusions and medication for a condition called Immune-Mediated Hemolytic Anemia. The dogs immune system is destroying its red blood cells and probably his plasma as well.
Barak came to the Orlemann's home when he was a 4 months pup and received training from Battlefield Buddies and as a veteran's service dog. This means he should be fully covered by the Veterans Administration, but according to Orlemanns the paperwork is stuck in bureaucratic limbo and the next 72 hours are critical.
Barak is only six and a half years of age and just young to just give up without a fight, especially with the tremendous help he's given our vet with Orlemanns' PTSD, mobility and diabetic issues.
The Orlemanns paid for Barak's service training because they wanted a dog that was theirs. According to Mrs. Orlemann, a disabled veteran friend had a dog through one of the well-known placement services, but when her overnight medical procedure resulted in a 30-day hospitalization due to infection, the vet had to fight to prevent her service dog from being placed with another person. That's because the service dog agency retains ownership, even when the dog has been with its person for several years.

Mrs. Orlemann described life before Barak as almost agoraphobic. Her husband couldn't leave the house, but with his four-legged buddy, Mr. Orlemann has been able to participate in his local veterans group, one that recently provided scholarships for high school students in the South Bay of Los Angeles. He currently serves as a state and national delegate to the Vietnam Vets of America.

For the sake of full disclosure, I know the Orlemanns through Southland Collie Rescue activities and helped set up their GoFundMe campaign. If you'd like to help, please use the power of prayer, send what money you can spare to their GoFundMe campaign or just simply share their story. A copy of the estimate bill is available on Barak's GoFundMe page.